MiTeGen Cryo-EM Pucks Generation 2.0
Know you are loading your best grids into the microscope.
Organize, track, and ship your samples on grids for single particle analysis and other Cryogenic Electron Microscopy (CryoEM) applications.
MiTeGen Cryo-EM pucks remain fully compatible with the existing tools, shipping, and storage canes used with Unipucks for crystallography.
Our second generation Cryo-EM Pucks feature:
12  well locations per puck; with easy-to-read numbering
Clear, affixed lid that rotates for grid box insertion; lid retains liquid nitrogen during transfers to protect samples
Magnets for strong puck retention, but easy removal in storage and shipping canes
2D Barcoding and custom puck serialization for advanced sample tracking 
Lid-lock feature provides easy and secure loading
10 Unique puck colors available for easy identification. See below for color choices.
Accepts all round CryoEM grid storage boxes
Compatible with HC34, HC35 and VHC35 storage refrigerators and CX100 dryshipper
Why you should try our 2nd generation cryo-EM pucks:
Your satisfaction is guaranteed. If you are not satisfied you can return them
Accepted at many cryo-EM facilities including all National facilities (NYBC, PNCC, STC2)
Made in the US
Learn More About The MiTeGen 2.0 Generation Cryo-EM Puck
Product Information
Keeping your Cryo-EM specimen grid samples safely organized during cryogenic storage and transportation allows your lab to focus on research.
Designed to work with the leading cryogenic storage refrigerators ( HC34, HC35, or VHC35) and Dry Shippers (CX100), pucks can be easily filled with grid boxes and placed onto shelved canes for storage or transport.
Puck Features: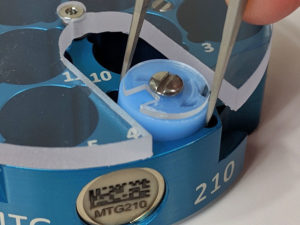 • Twelve (12) indexed wells per puck; compatible with standard cryo grid boxes (24 per puck) & pin-type lids (12 per puck)
• Unique custom serialization and barcode on each puck
• Tweezer slots allow easy and secure removal of Cryo Grid Boxes
Easy Handling & Tracking:
• Affixed lid retains liquid nitrogen during transfer to protect samples for longer amounts of time
• Compatible with Front Grasping Tongs and Angled Puck Tongs
• Easy barcode scanning allows for simple tracking
Choice of Puck Color:
You have your choice of puck color. Your color choices are red, black, purple, grey, blue, gold, green, violet, brown or orange.
Secure Storage & Transport:
• Unique Lid-lock mechanism secures lids for easy cane loading
• Magnetic retention in shipping and storage canes provides a secure hold
• Shelved Transport Canes holds up to eight pucks (CX100 Dryshipper compatible)
• Shelved Storage Canes hold 10 pucks (compatible versions for HC34, HC35 & VHC35 storage dewars)
Watch Our Cryo Em Puck Video
You may also like…
The MiTeGen Cryo-EM Lab Tool Kits are designed to provide your lab with everything you need to start using...

Our Cryo-EM Grid Storage and Shipping Systems (kits) are designed to organize, store, track, and ship your...

Get your CryoEM puck set in a series of unique colors. Help identify which puck you are working with....